In the Photo Gallery, we will try to show the lighter side of traveling and singing Southern Gospel Music. The guys have a great time on the road and our goal is share just a piece of that excitement with you. If you've attended a Bibletones Concert and have a digital photo of the guys, please send it to us. Thanks!!
---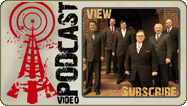 Watch our video blog of life on the road with the Bibletones Quartet.
You'll get an inside look at some of
the funny and outrageous behind-the-scenes moments. Click SUBSCRIBE to automatically receive updates!
>>VIEW THE LATEST VIDEO
>>
GOT QUESTIONS?